Need to improve your Thai or just started learning the language? Here are the top 5 Thai language apps that will help you become a better Thai speaker. For beginners and advanced learners.
Thai Pod 101
This language app offers basic to advanced lessons. A good way to start learning the Thai lessons but also offer the extra content for intermediate learners missing in other apps. The app gets regular updates and the content is far larger and more correct than in the other apps we have tried. The free version offers basic to low intermediate lessons.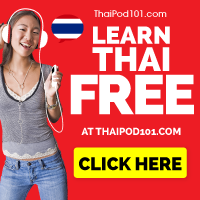 Thai by Nemo
A collection of phrases. You can record your own voice saying the phrase so you can hear it back and compare it with the native speaker audio.

Game Thai Leaning
Addictive and a fun way to learn the Thai lessons but there are some minor mistakes in the lessons and the content is just basic. It is mainly good for people who just started to learn the language.

Learn Thai Phrasebook
A large collection of Thai words and phrases to use in daily life and is very helpful if you quickly want to look something up. It is basically an electronic dictionary but with little interaction.

LuvLingua Thai
Highly addictive collection of small word games that will keep track of your score. There is a lot of content in this app geared towards the beginner. The app is highly interactive and also has a daily word notification showing on your screen.